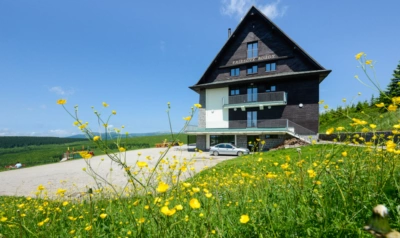 The two hotel resort in the middle of the Giant mountains at 1217 m.a.s.l, offers you comlex services for your company activities
Company events
Space for training employees:
Restaurant (capacity of 80 people)
Club (capacity of 20 people)
Training room (capacity of 25 people)
Converted children's playroom (capacity of 20 people)
Sound system, projectors, IT technology, Wi-Fi connection to internet throughout the hotel free of charge.
Teambuilding Activities
Refresh the souls and body of yourt emloyees with outdoor activities at the top of Krkonose mountains. Make use of our experienced mountain instructors for paragliding, powekiting, rock climbing or mountain hiking.
Free brewery tour and tasting
Organize a company event in the months of May, June, September and October and get a tour of the Brewery and beer tasting for your employees free of charge! 
Collaboration with Yellowpoint agency
Realization of teambuilding, educational, entertainment, sports and adrenaline programs.
Specialist in outdoor program events tailor-made for customers in the location of Friesovy boudy resort an experienced team on the market since 1999
Realization of more than 2500 events
Program suggestions
Krkonose Mountain Beer trail (summer) 
learn about and sample Krkonose mountain microbreweries
fun hikes with QR codes and GPS coordinates
shortened trip varients in the vicinity Friesovy Boudy Resort
Adrenaline Cocktail at Špindlerův mlýn (summer)
mix your own dose of adventure and overcome obstacles
road scooters, zip line and abseiling at the Labská dam, a giant swing and climbing activities in the Adventure park
Views from the Saddle (summer)
a leisurely trip along the ridges on mountain bikes and electric bikes
look for viewpoints and interesting places during the so-called photo rally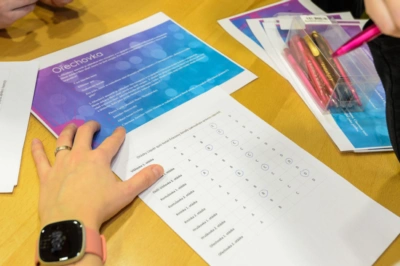 Evening Programs (any time)
entertaining programs for groups in the comfort of the hotel restaurant / lounge
Pub Quiz – show your beer knowledge and skills
Videostop / Suitcase / Know the Czech Republic? - variations on popular TV shows (in the CR)
SKI Alpine Hiking (winter)
discover the magic of ski mountaineering by joining our guides in the winter beauty of the Krkonose Mountains
in addition to a great trip, you will also learn something new about moving around in the mountains, avalanche issues, or the work of the Mountain Service
Competitions of all kinds (winter)
the surroundings of Freisovy Boudy Resort offer spaces for many different disciplines
skiing or snowboarding, sledding, funny biathlon, snowshoeing, etc
Fotobedna 
is a unique photo booth in which you can touch to change the background and foreground. We know how to deliver excellent photos thanks to color filters and a great atmosphere. Everyone who takes photos in our photo booth will have lots of fun and after the event they will surely have great memories in the form of original prints.
How does the Photo booth work? 
Stand in front of the photo box
Choose multiple backgrounds
We will take your picture and send the prints
we print, animate, and send them via mail or FCB
DJ Petr Ticháček
Moderator - prime time slot at Černá hora radio broadcasted throughout eastern Czech Republic
Performs as a DJ at Various music, corporate, sporting events or exhibitions 
Focuses mostly on retro, disco, Czechoslovak hits - a music show!
References: 
Sky Team Alliance, Alitalia airline, Celebrations of Prague (Staroměstské náměstí), Prague for children (Staroměstské náměstí), Drop In, Shell – Ferrari Racing Days Brno, Microsoft, Skype, Wrigley, ETA, Porsche Praha Prosek, Porsche Hradec Králové, Lego, Quelle, Foxconn, T-Mobile, ČSOB, Insia, Avon, LBBW Bank, ČEZ, Empire, Komerční banka, Partners, Česká spořitelna, Česká pojišťovna, world championships, Czech Majáles, festivals and many others.
SKI LIFT
Right near the hotel
Our own 900 meter slope with night skiing options, ski instructors, and many group or individual activities.
Accomodations 
In two newly reconstructed buildings 400 meters away from each other, you will find accommodation for up to 120 people. It consists of two-bed or four-bed rooms and four-bed or six-bed suites. 
Kitchen 
Regional specialities in a modern concept with the use of Krkonose mountain regional products
Rich banquets tailor-made to your requirements. 

Restaurant
The area has two restaurants, with a capacity of 90 seats for each one. Part of the restaurant is also a club with a fireplace, bars, technology for brewing beer and, lastly, panoramic views of the Giant mountains. 
Brewery
We brew Fries beer from Czech malt and hops. We base the beer on fresh spring water tahat we tap directly from the friesovy boudy grounds. This water creates a distinctively unique taste and color. 
Wellness
The Friesovy boudy hotel has a wellness area for relaxation and rest complete with a hot tub, finish sauna, steam bath,  swimming pool and a relaxing space with lounge chairs. All this with a sunny panoramic view of the Krkonose mountains. 
Contacts
If you are interested, do not hesitate to contact us:
tcermakova@friesovyboudy.cz, phone 770 120 888.